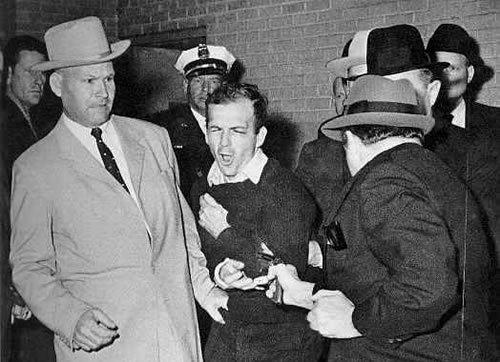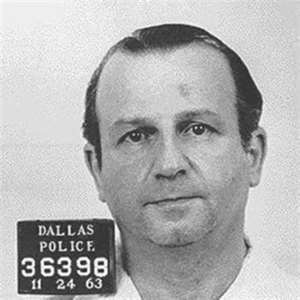 .                    Born Jacob Leon Rubenstein in Chicago, IL on March 25, 1911,  Jack Ruby would become world reknown for assassinating the assassin of John F. Kennedy.  From his early years until 1943, Ruby was a vagrant who stayed in and out of trouble, being associated with the "right" mix for influence.  He was arrested at the early age of 11 for truancy, and spent some considerable amount of time at the Institute of Juvenile Research(Sounds Like A Recruitment Ground for Covert Government Asset Training).  He later became a business agent for a local collector's union in Chicago which later became part of the International Brotherhood of Teamsters(you know what that means).  He left for the armed Army Air Force in 1943 and from then until 1946, he worked as an Air Craft Mechanic(Ok take note of this, we will see later on, affiliations with Air Force Personnel & the Local New Orleans Civil Air Patrol.)  
                     According to childhood friends, Jack had nothing to do with local mobsters & gangsters.  His early friends were also on record as to saying Ruby was on his own and was not connected to any Mafia type group.  FBI agent Bill Roemer, completed a thorough investigation in Chicago after the assassination of Oswald.  He frequented every low-life in the Chicago area, and no one knew who Jack Ruby was.  Even the Mafia top guys, as Roemer points out, "his informants", had no knowledge of Jack Ruby or Jack Rubenstein.  It wasn't Mafia related.   Both State & Federal officials indicated that he was not affiliated with organized criminal activity.  My biggest concern right here is, #1 why was an FBI agent in communication with high ups in the Chicago Mafia, #2 The Warren Commission backs up the claims that he was not Mafia.  Sounds like tips & Payoffs to me, Mafia CHECK. 
                    While in the Army Air Corp in 1943, He attended his first of numberous Communist Party Meetings. Hhmmm... the plot thickens...  THey met on the 3rd Floor of an office building on Walnut Street in Muncie, Indiana.  William Fehrenbach told The Warren Commission, members were from all over, but said Ruby always stood out as dressing nice and always treated him like he was somebody.  When he addressed Ruby as Mr. Rubenstein, he would reply my name is Jack and that was how I was suppose to address him.  Fehrenbach stated to the best of his knowledge, Rubenstein was a member of the Communist Party in America at the time, or at least was closely associated with them.  
following the assassination, four Dallas deputy constables(fully empowered peace officers with county-wide jurisdiction) inspected a box obtained from Mary Sims that contained documents which linked Ruby & Oswald.  The deputies, Billy J. Preston, Ben Cash, Robie Love, & Mike Callahan saw a photocopy of what appeared to be a press card for the communist newspaper, "The Daily Worker," with Jack Ruby's name as the Chicago correspondent.  Ruby was not a communist, but appears to have been monitoring the activities of local communist party meetings.
                                                                                                                                                                       **NOTE FROM  HARVEY & LEE BY JOHN ARMSTRONG"
                    On Rubenstein's 2nd visit to Muncie, He took Fehrenbach out for lunch.  They spent approximately 1.5 hrs together, during which time, Ruby invited Fehrenbach to come visit him in Chicago.  
                    When he left the military, he moved to Dallas, TX.  His sister had been residing in Texas since 1943 and owned an establishment called the Singapore Supper Club, later known as The Silver Spur, where he began helping his sister run her business.  This was Ruby's introduction into the business of nightlife establishments and he began making connections to local business owners in Dallas.  During the next few years, Ruby would travel back and forth, spending time in both Dallas & Chicago.  
                     Fehrenbach would see Ruby 1 more time in early of 1947 in Muncie, Indiana.  A few days later, Fehrenbach would find a list lying on the floor of the 3rd level with a list of about 100 names who he suspected were associated with the Communist Party in America.  Jack Rubenstein was one of the names on that list.  He turned the list over to his father in law who was a local police officer.  
                     After the assassination of Kennedy and Oswald, he saw Ruby's face on the television and called the F.B.I. and explained in detail he knew him as Jack Rubenstein and his association with the Communist Party.  This was later dismissed, as there was another Jack Rubenstein from New York who held some political offices, but was highly associated with the Communist Party.  Details showing the 2 pictured side by side, show that they are 2 totally different people.  This was used in the defense during the Warren Commission and kept Jack Ruby from being associated with the Communists.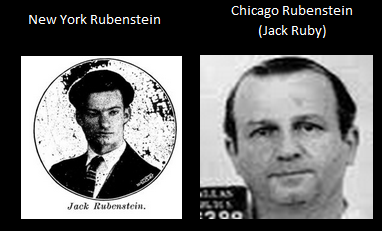 Not Even A Close Similarity
There are some affiliated reports which state that Jack Ruby from Chicago was hired as an informant for the House UnAmerican Activities Committee(HUAC) to report on Communist Activities in America.  Memorandum wrote on 11/24/1947 by a HUAC staff assistant read, "It is my sworn statement that one Jack Rubenstein of Chicago noted as a potential witness for hearings of the House Committee on UnAmerican Activities is performing information functions for the staff of Congresman Richard M. Nixon, Representative of California.  It is requested Rubenstein not be called for open testimony in those aforementioned hearings."  
He was hired as an informant by Nixon under the referral of Linden Johnson(There is Linden again.)  
Jack Rubenstein changed his name one month after being hired by the HUAC.  Granted by the 68th 
Judicial District Court in Dallas on 12/30/1947, his name was legally changed from 
Jack Leon Rubenstein to Jack Leon Ruby.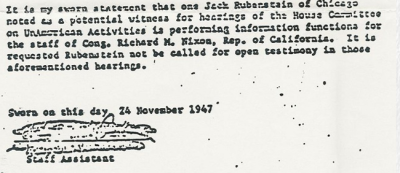 In 1952, Ruby stating he was broke and exhausted, sold the Silver Spur NightClub.  When Ruby was interviewed by the F.B.I. over other allegations, he stated had been mentally depressed and held up at a local hotel for 3 or 4 months then went back to Chicago for 1.5 months.  This is all bogus information of course.  Ruby had been traveling between Dallas, TX & Daytona, FL during this time.  He had gotten involved in supplying guns, munitions, & conterfeit currency to leftist Cuban Rebels who were apposed to the 1952 Coup by General Fulgencio Batista.  
                     During his stays in Florida, Ruby became acquainted with former Cuban President Carlos Prio, who at the time was the one supplying the guns and munitions to Fidel Castro.  Ruby met a CIA operative named Donald Edward Browder who had also been working on the gun smuggling.  Together, they contracted Marrs Aircraft in Miami, Florida to transport weapons to Cuba.  Former Cuban President Prio held the majority of ownership, and during the era prior to Castro, the CIA & Customs would not oppose gun shipments to Castro.  
                    Former Cuban President Carlos Prio & 17 other individuals were indicted on charges surrounding the allegations of arms purchasing and exportation to Cuba in May 1954.  Prio did not contest the charges, plead "nolo contendere" which means -a plea by which a defendant in a criminal prosecution accepts conviction as though a guilty plea had been entered but does not admit guilt.  Prio served no jail time and was fined a mere $9, 000.  Neither Browder, Nor Ruby were questioned, charged, convicted, fined, or even questioned by the U.S. Government.  However, in 1954, one of Donald Browder's contacts, Efrom Pichardo who was charged with conspiracy to ship arms to Cuba on behalf of Carlos Prio.  Another co-defendant, Marcos Diaz Lanz, was a close associate of CIA operative Frank Sturgis(also known as Fiorini).  
                    FBI Informant known as "T-2"(Blaney Mack Johnson), knew everything to detail about Browder & Ruby's Gun running activities in the early 50s.  Blaney gave the FBI detailed information about said activities & 3 names of people who could corroborate the story: Marr's Aircraft's Joe Marrs, who they contracted to fly the guns to Cuba, former Chief of Police in Hialeah, Florida Leslie Lewis, who knew about the operations, and Clifton T. Bowes Jr., a captain with National Airlines in Miami.  After the assassinations, the FBI questioned all 3, and all 3 denied any knowledge or being involved with the illegal smuggling of arms to Cuba and denied knowing Jack Ruby.  
                    Fidel Castro was released from prison on May 15, 1955 and fled to Mexico where he met Dr. Ernesto "Che" Guevara, a doctor from Argentina.  He then went to the U.S. seeking out wealthy investors to back his uprising & revolution.  On November 25, 1956, He and 82 others, on an old yacht, bound for Cuba, stormed the beaches.  They were met with a barage of resistance by General Batista's Forces.  Fidel, his brother, and the Argentinian Physician Che Guevera escaped into the Sierra Maestra Mountains, where they began recuiting people for their next rebellion attempt.  All the others had perished.  
                    Robert Mckeown, an engineer from Texas, who was friends with Former President Carlos Prio, & owned a manufacturing Facility in Cuba.  He lost his business when General Batista deported him for aiding in the arms supply to Castro and his band of rebels.  McKeown had stated that he had briefly met Jack Ruby in his statement to the Warren Commission, but when reviewing all the documents of the gun smuggling, it's obvious they had known each other for quite sometime.  At this point though, Prio, McKeown, & Ruby had known each other for 5 years or so.  But it was the Texas Engineer, Robert McKeown who began developing a close friendship with Fidel Castro after he delivered cargo ship after cargo ship of arms based out of Miami, Tampa, and later Seabrook and Kemah, Texas where McKeown lived.  For his services, McKeown was always paid in the office of an attorney who was counsel for Haiti, in cash, with $100 bills bundled in paper wrapping marked, "Pan American Bank, Miami."  In a letter from Hoover to Rankin on April 17, 1964, the FBI informed the Warren Commission that McKeown was one of the persons in an extensive investigation conducted by the Bureau since 1952 concerning the activities of Carlos Prio Socarras.  The FBI said that Prio, along with others including McKeown, were engaged in supplying Castro with arms for his revolution against General Batista.  The FBI also had some reports stating Jack Ruby/Rubenstein was also involved in supplying arms to Castro, but never provided the reports to the Warren Commission, thereby helping conceal any connection between Ruby & the CIA.  
                    By 1957, the revolution was well underway.  Fidel Castro and approximately 300 some odd rebels were actively engaged in guerilla warfare against General Batista's Forces in Cuba, with arms supplied by CIA-sponsored gun runners.  Again Ruby & Browder began moving arms from Florida & Texas to Fidel Castro, all the time being monitored by CIA & U.S. Customs.  The Bureau had about a 1, 000 page file on Browder, but in 1964 they released only 3 pages to The Warren Commission.  The Bureau knowingly aided in concealing Ruby's connections to his CIA associate Edward Browder from the Commission.  In the 70s, Browder testified before the House Select Committee on Assassinations, and admitted that he used to work for the CIA.  He claimed he bought arms from a CIA proprietary company, The International Arms Corporation(InterArmco, of Alexandria, VA), and then transported the arms to Fidel Castro in Cuba.  
                    Mr. Browder was a former Lockheed test Pilot who was serving a 25 year sentence at the time of the interview for security violations.  He told the HSCA that 1 year after the assassination of President Kennedy, he leased a B-25 Bomber uner a fictitious company name, and flew it into Haiti.  He then cashed a check in the amount of $25, 000 that was signed by none other than George DeMohrenschildt's Haitian business accociate, Clemard Charles.  The HSCA used all of Browder's testimony in connection with DeMohrenschildt, but omitted all of his testimony in their report related to Jack Ruby.  The HSCA helped to conceal Ruby's connections to the CIA operative as well, just as the FBI had concealed Ruby's gun running activities from the Warren Commission.  The reluctance of government authorities to properly investigate Ruby's connections to CIA operatives during most of the 50s & early 60s make sense as we begin to understand the extent of the CIA involvment in the assassination of President Kennedy & Ruby's assassination of Oswald.  
                    As the revolution continued in Cuba, Ruby began commuting between Dallas and a community in Houston called Kemah, TX.  A friend of Ruby's whom he regularly enjoyed card play, James E. Beaird, told both the FBI & The Dallas Morning News, that Ruby was storing guns & ammunition in a 2 level house between the railroad tracks and waterfront in Kemah, Close to Galveston Bay.  During the weekends, Beaird personally witnessed Ruby and his associates load many boxes of guns, including automatic rifles and handguns onto a 50 ft military-surplus boat.  It was Robert McKeown himself who often piloted the boat to a drop-off point in Mexico, where Castro himself would land his yacht, the Granma, and pick up the arms.  As McKeown would deliver more and more arms to Castro, the 2 men developed a close and personal relationship.  Their relationship became so close that shortly after Castro finally took over in Cuba, he flew to Houston, TX and met with his friend in an attempt to persuade him to return to Cuba.  Castro promised McKeown he would  be given a high government position or a business concession.  When Beaird was questioned about Ruby's gun running operations in Galveston Bay, he would say, it wasn't a secret.  Many people knew all about this because Ruby was so open with it.  But unlike Prio, McKeown, and dozens of other people who supplied arms to Castro, Jack Ruby was never charged, indicted, nor even questioned by US Government Authorities.  Ruby appeared to have no fear of being arrested for his operations from 1952 to 1963.  Not only did US Government agencies overlook Ruby's operations, but so did the Warren Commission, the HSCA, the Church Committee, & the ARRB.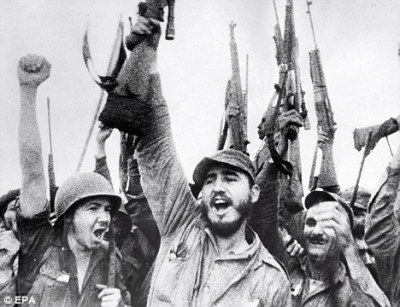 The FBI learned that some of Fidel's forces were planning a raid on Cuba from Texas, and it was McKeown who was busy arranging the procurement & shipment of arms, in early 1958.  McKeown's involvement with Mario Villamia(a CIA connected associate of Carlos Prio who lived in Miami and participated in the CIA's "Bay of Pigs" Operation), was also documented by the FBI.  The FBI office in San Antonio, provided information to U.S. Customs that McKeown had purchased a yacht called the "Buddy Dee" on February 18, 1958.  U.S. Customs seized the vessel enroute from Patterson, Louisiana to Houston with a load of munitions a few days later.  On the 25th of February, Federal Agents arrested McKeown and charged him with conspiracy to smuggle guns and related equipment to Cuba for the benefit and use of Fidel Castro.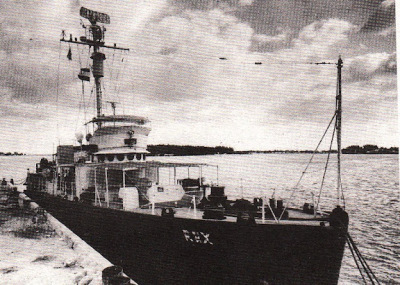 Make note of this:  Some of Carlos Prio's co-defendants were working for the CIA.  Mario Villamia, of Miami, FL, participated in the "Bay of Pigs" which I explained earlier, and continued to work with the CIA during the 60s.  Juan Orta, while secretly working for the CIA, was director of Castro's Ministerial office in Havana.  We've all heard story after story, assassination attempt after assassination attemp on Fidel Castro, but the truth is, the CIA planted Fidel Castro, and even watched from several of his government offices keeping an eye on him.  If they really wanted to, they could've taken him out at any time.  The truth is, they didn't want to take him out.  The U.S. Government announced the suspension of arms sales to General Batista in March of 1958.  It was now just a matter of time before Castro and his growing army of rebels(now numbering around 3, 000) succeeded in overthrowing General Batista.  
                    While Prio & McKeown were facing charges for conspiracy, Ruby was once again commuting between Dallas & FLorida.  Dolores Rhoads, her husband Richard Rhoads, and her mother(Mrs. Mary Thompson) in May of 1958, visited Dolores' aunt & uncle, James & Mary Lou Woodard, in Islamorada, Florida.  Dolores & Richard spent the first night in a small 2-unit motel operated by "Jack" &  "Isabel" who were acquaintances of her uncle.  "Jack", who was originally from Chicago, said his first name was Leon but he went by Jack.  Ruby's middle name was Leon.  Mrs. Woodard said that Jack had a trunk full of guns that he was going to supply to the Cubans.  Mrs. Thompson was told there were supplies of guns hidden in the marshes near Islamorada that were to be sold and delivered to the Cubans.  Mary Thompson and her daughter said that "Jack" was driving a late model grey colored Buick with Texas license plates.  Dolores recalled that when drunk one evening her uncle, James Woodard, said he was going to help Jack run guns to Cuba.  Ruby's accountant Charles G. Watters, told the FBI that Ruby drove a used Buick.  The FBI also interviewed James Woodard in September of  '63.  Woodard was questioned again, this time concerning dynamite found at his residence in South Dade County, Florida.  He said the dynamite was to be used by Cuban exile forces fighting the Castro regime.  Apparently the FBI did not ask Woodard if he knew or associated with Jack Ruby, "Leon" or "Rubenstein."  After Kennedy & Oswald's Assassinations, James Woodard's sister said that her brother had been in Texas a lot, and that she had asked James if he ever knew Ruby.  He replied no, but then promply disappeared and hasn't been seen since Nocember 25, 1963.  
                    In 1958, a boat load of Cubans came ashore at a dock in Marathon Shores, Florida, and a young American placed a telephone call to a man in Dallas named "Ruby."  The Oklahoma State Crime Commission linked "Abe Rubenstein," owner of a night club in Dallas, to a carload of guns and ammunition destined for Cuba.  "Jack Rubenstein" wrote a letter to the Office of Munitions Controls requesting permission to negotiate the purchase of firearms and ammunition from an Italian Firm.  In 1959, An Army Intelligence Report, related to importers of armaments, listed "Jack Rubenstein" as the representative for Saunders Import Company, New York, NY.  Isn't it kind of humorous, Prio, McKeown, and several CIA-connected conspirators were arrested for gun running conspiracy from 1953-1958.  Jack Ruby was never once questioned, nor arrested for the same activities.  Ruby was never concerned about keeping his operations quiet, but following the assassination of Kennedy & Oswald, Ruby was deeply perplexed & concerned.  Ruby warned Tom Howard(his attorney) about his CIA connections, and feared that if the connections were revealed, it would expose the CIA's role in the Kennedy Assassination.  Allegedly Tom Howard died of a heart attack a year later at the age of 48, but friends & family thought he had been murdered.  Also in 1958, while awaiting his trial, McKeown went in together with a Mr. Jarret and oppened J & M Drive-In on Red Bluff Road near Kemah, TX.  His friend Carlos Prio funded their venture with a loan.  According to McKeown, Prio had promised him 1/2 interest in the Seria Biltmore, a hotel in Havana.  After his arrest, Prio could no longer provide arms to Fidel Castro and the multi-millionaire and former Cuban President turned his attention to developing real estate in Miami & Puerto Rico.  While being sought for questioning, Carlos Prio was found lying on the ground outside the garage of his Miami Beach Home on April 5th, 1977, dead from gunshot wounds.  He allegedly committed suicide-one week after George DeMohrenschildt allegedly committed suicide by gunshot, and 3 months after CIA asset and former US Ambassador William Pawley allegedly commited suicide on January 7th, 1977.  The HSCA could have asked Prio to explain how and where he acquired his munitions, how they made their way to Cuba, and by whom he was paid, his connection with Ruby McKeown, and other CIA operatives including the notorious Frank Fiorini/Sturgis.  Prio's testimony would've shown that Ruby had been involved with CIA operatives and CIA operations for many years.  
                    Castro's Cuba.  On January 1st, 1959, Fidel Castro & his Rebels succeed in overthrowing General Batista, and there was no need for Ruby to continue supplying arms to them.  But, concerns over political conditions in Cuba began to surface & did not appear to be in the best interest of the United States of America.  4 months prior to his takeover in Cuba, Founder of the John Birch Society, Robert Welch, wrote in the September 1958 issue of American Opinion that Castro, "is a Communist agent carrying out Communist Orders...." Soon after taking over Cuba, Castro's communist tendencies began to surface.  He confiscated U.S. Property, All the banks & Large Industries were all Nationalized, schools became propoganda factories, civil liberties were suspended, free elections were dismissed, and the courts were overtaken.  As soon as the anti-Batista forces laid down their arms, "Revolutionary Justice" began and purges with mass exeutions followed.  Castro later explained, "back in 1959, the U.S. wanted us to make strategic and tactical error and proclaim a doctrine as a communist movement.  In fact, I was a communist...., however, I think that a good Marxist-Leninist would not have proclaimed a socialist revolution in the conditions that existed in Cuba in 1959.  I think I was a good Marxist-Leninist in not doing that, and we did not make known our underlying beliefs."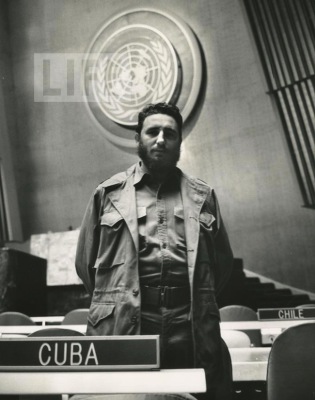 On March 31, 1959, deep undercover CIA agent Frank Sturgis(real name Frank Fiorini), was interviewed by FBI SA Krant and SA V.H. Nasca, upon referral from the Director's Office of the FBI, Fiorini was then a Captain of Cuban Rebel Army, and was on a confidential mission to the US at the behest of the head of the Cuban Air Force.  The real purpose of his trip was not known to Fidel Castro or his supporters.  Sturgis/Fiorini identified members and leaders of the Cuban Government who were either Communists or Communist Sympathizers.  He also furnished information concerning Cuban plans for potential revolutions in Caribbean countries.  Sturgis/Fiorini, without revealing that he was working for the CIA, offered his services to the FBI as an "agent" in the fight against infiltration of Cuban Government by Communists.  He then requested aid in fighting communism in the Cuban Government.  The HSCA asked Robert McKeown if he knew Frank Sturgis(CIA Agent."  McKeown answered, I seen him one time over at Prio's house..."  McKeown, Carlos Prio, Ruby and others who supplied arms to Castro were constantly surrounded and monitored by the CIA and U.S. Custom operatives.  
                    In response to the growing threat of a possible Communist government within 90 miles of the United States, the CIA began training and arming thousands of former Batista supporters, anti-Castro Cubans, and Cuban refugees who fled their homeland and were living in South Florida.  Donald Edward Browder told the HSCA, "During the pre-Castro years, the CIA and Customs would not oppos gun shipments to Castro.  After Castro turned Communist, the CIA and Customs encouraged shipments to anti-Castro Forces.  People were beginning to fear that Castro was, as many had suspected, a communist and should be removed.  
                     On March 11, 1959, Dallas FBI agent Charles Flynn wrote, "on the basis of preliminary contacts and information developed to date, I recommend the captioned individual Jack Ruby, for informant development." Flynn further wrote, "PCI(Potential Criminal Informant) advised he was willing to assist the Bureau by supplying criminal information, on a confidential basis, which comes to his attention.  On November 6th, 1959, Flynn wrote, "contacts(with Ruby) have been negative to date, it is felt that further attempts to develop this man would be fruitless."  On March 15th, 1959, Ruby telephone and met with CIA connected arms dealer Thomas Eli Davis III in Beaumont, TX.  A year later in June, 1958, Davis received a sentence of five years of probation for robbing a bank.  While on probation, Davis worked for the Agency training anti-Castro units in Florida.  Soon, Ruby and Davis were supplying arms and munitions to Anti-Castro Cubans.  Again without fear of arrest.  You see, Ruby did not support Castro.  Ruby supported the CIA.  
Special Note:  When JFK was assassinated, Davis was in jail in Algiers for running munitions to a terrorist outfit who was planning the assassination of French President Charles DeGaulle.  Davis was released from jail through intervention of the CIA's foreign agent code-named "QJ/WIN," who was identified by the top-secret CIA Inspector General's Report as the "principle asset" in the Agency's assassination program known as ZR/RIFLE.  After Ruby's arrest for killing Oswald, his defense attorney(Tom Howard) questioned Ruby if he could think of anything else that might damage his defense.  Ruby stated there would be a problem if a man by the name of "Davis" should come up.  Davis was later identified as Thomas Eli Davis III, the CIA connected gun runner & soldier of fortune.  In 1963, the Moraccan National Security Police informed the U.S. State Department that Davis was arrested for an attempted sale of firearms to a minor.  When Davis was searched, the police found a letter in his handwriting which referred in passing to Oswald and to the Kennedy assassinations.  Ruby told Howard that he had been involved with Davis, who was a CIA gunrunner, entangled in anti-Castro efforts and that he(Jack) had intended to begin a regular arms running business with Davis.  Ruby warned his attorney of the connection, and feared that if it were to be revealed by either an investigative reporter or a witness, it would blow open the CIA's role in JFK's assassination.  The HSCA, under Robert Blakey, was intent on covering up any CIA connection or arms dealing with Ruby and failed to investigate the Ruby/Davis connection.  They explained, in typical government prose, "Due to limitations of time & resources... it was not possible to confirm these allegations."
                    Fidel Castro flew to Washington D.C. to meet with Vice President Richard Nixon in April of 1959.  Afterwards, Nixon wrote a confidential memorandum to the CIA, the State Department, and to the White House, expressing his concerns that Castro was leaning towards being a Communist.  Soon after, the CIA began organizing and training anti-Castro groups in Florida, while Ruby & Davis helped to supply the new rebels with arms and munitions.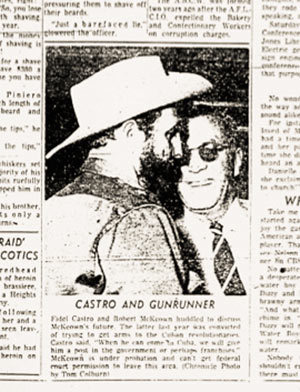 Castro flew to Houston after leaving Washington, D.C.  and met with Robert McKeown at the airport.  There was even a photograph on the front page of the Houston Chronicle.  Castro asked McKeown to return to Cuba, and he would give him a high post in his government, an industrial business to run, or whatever he wanted.  McKeown politely responded, telling Castro that because of his probation, he could not leave the United States.  Castro rebuted, stating the U.S. Authorities would never bother him in Cuba and told him not to worry.  McKeown declined his offer and Castro returned to Havana.  
                    McKeown, because of his close friendship with Castro, made many people ask him for help regarding affairs in Cuba.  On one occassion, McKeown's brother asked him to contact Castro and attempt to obtain the release of 3 friends who were being detained because they were caught fishing in Cuban Waters.  McKeown personally telephone and spoke with Castro and the men were quickly released.  On another occassion, Jack Porter, campaign manager for Eisenhower, contacted McKeown about approaching Castro for other reasons.  
                    In early 1959, Ruby inquired about the possible sales to Cuba of surplus jeeps located in Shreveport, Louisiana and asked about the possible release of prisoners from a Cuban prison.  The jeeps, the prisoners, and Ruby's visit to Cuba in August, 1959, all suggest that his activities were sponsored and directed by others.  Prior to visiting Cuba, Ruby asked McKeown to write a personal letter of introduction to Castro so that he could talk with Castro about releasing some unnamed friends that were being detained in Havana.  McKeown also said that Ruby had a whole lot of jeeps he wanted to get to Castro.  Also in 1959, Cuban travel records show that Jack Ruby entered Cuba from New Orleans on August 8th, Left on September 13th.  But bank records, Dallas police records, and FBI records all show that Ruby was in Dallas on August 10, 21, 31, & September 4th.  Someone was helping Ruby to get into and out of Cuba without going through Cuban customs and immigration.  In 1959, Ruby did not travel to Cuba for Pleasure.  It is also important to note, Mafia Don Santo Trafficante, also participated in the CIA's attempts to oust Fidel Castro.  He appeared before the HSCA and was questioned by chief counsel Richard Sprague.  Not one single question was about Trafficante's mob connections.   Instead, he focused on either Jack Ruby or the CIA.  To each of his questions he answered, pursuant to my constitutional rights under the 1st, 4th, 5th, & 14th ammendments I respectfully refuse to answer the question.  Because of Sprague's focus on the CIA , he was forced to resign as chief counsel and replaced by none other than Robert Blakey, who managed through selective testimony and questioning to shift blame for the assassination of President Kennedy to the Mafia.  Blakey worked very hard to sell to the public the "Mob Responsibility Factor" in the Kennedy Assassination.  Most of the evidence and witness testimony presented to the HSCA pointed to individuals at the highest level of the CIA as the principal planners of the assassination, but Blakey cleverly and deceptively ignored the obvious and blamed the Mafia.  
                    Jack Ruby was involved in a plan to sell British Enfield rifles bought from Mexico and sell them to anti-Castro Forces in Florida in or around 1961.  The Warren Commission was told about the arms running from MExico to Cuba and returning with Cuban refugess to Florida by Nancy Perrin Rich.  During the decade leading up to Kennedy's assassination, there is an enormous amount of data proving the CIA, FBI, & U.S. Customs were well aware of the actions of one Jack Rubenstein and his arms dealing operations.  A written response was requested from the CIA for any and all information on Jack Ruby, aka Jack Rubenstein by The Warren Commission.  The official CIA response to the request was as follows, "Examination of CIA records failed to produce any information on Jack Ruby or his activities."  The CIA provided no information concerning his actual name, Jack Rubenstein.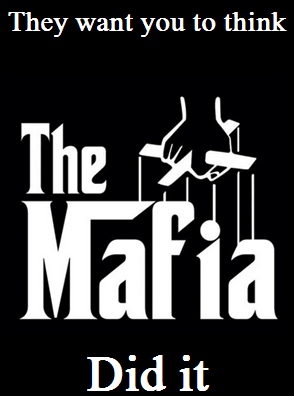 Meet the infamous Marita Lorenz, a native to Germany who had an affair with Fidel Castro in 1959 & in January of 1960.  She was involved in an assassination attempt controlled by the CIA on Castro.  In the 70s & 80s, she testified on the John F. Kennedy assassination, where she explained she was involved with a group of anti-Cuban militants, Frank Sturgis & E. Howard Hunt of the CIA, & watergate shortly before the assassination.  
                    In late 1960, she was in Miami at a CIA safehouse with members of her group & she met Lee Harvey Oswald for the very 1st time.  She stated, that later she would see Lee in the training camps located in the Everglades in 60 & again in 61 as well along with Frank Sturgis & Alex Rorke, but this was the first time she actually met him, the "Bay of Pigs" operation would occur sometime within the next year. There are photographs to prove these affiliations. Their 2nd meeting in the safe house in Miami would occur in 1961, prior to the "Bay of Pigs".  She claimed, she did not see Oswald prior to their introduction at the safe house in 1960, but had regular contact with Frank Sturgis & Alex Rorke, after their meeting she had regular contact with Oswald up until the "Bay of Pigs" in April 1961.  All pictures associated were taken by Alex Rorke himself.  Now, between the "Bay of Pigs" of 1961 & 1963, she had no contact with Oswald, but was in regular communication with the 2 CIA operatives Frank Sturgis & Alex Rorke.  She saw Oswald again in the Miami Safehouse again in 1963, the year of Kennedy's Assassination.  The circumstantial evidence here is conflicting with official reports documented by the U.S. Government stating Oswald did not return from the Soviet Union until June of 1962.  Marita Lorenz adimantly claims she has given a true testimony.  Someone continually covered Oswald's tracks.  It was almost as if Oswald's life & identity was being marked for use of something of great importance all the way back to 1958. It's almost as if we have 2 Oswalds.  The Communist in Russia, & the other is a CIA agent or asset of some nature.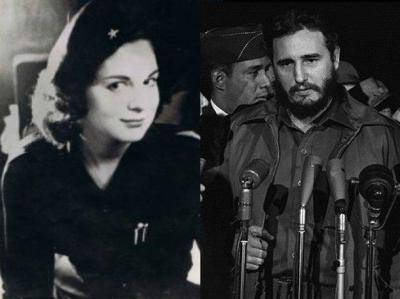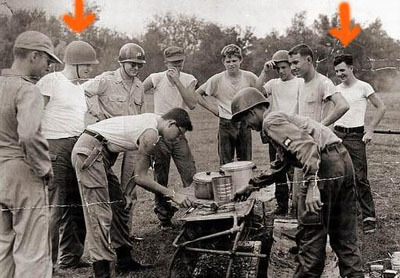 Please make note, CIA operative Alex Rorke had taken photos of  Lee Oswald in Florda(circa. 1960-61), while  Harvey Oswald was in the Soviet Union.  Rorke Rorke perished in a plane crash in Mexico in May 1964.  Others that died in the crash were Hugh Ward, DeLessups Morrison(former Mayor of New Orleans), his son of 7 years old Christopher, Daleigh Pellegrin & Ovide Cenac.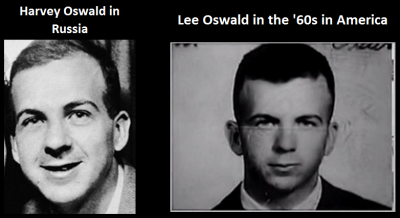 When reviewing these 2 pictures side by side, one can't help but notice the similarities.  But, one can't also help but notice the differences.  These were 2 different human beings, that looked very much alike.  Harvey Oswald in Russia(The Patsy) has a little fatter, rounder face.  Lee Oswald(The CIA operative), had a narrower, slimmer face with a triangular shape.  The differences are subtle, but are obviously there.  Even their eyebrows are similar.  Though these pictures are in black & white, you can still tell color contrasts by tone.  Lee's hair is darker than Harvey's hair.  Even though our hair changes every 7 years, Lee's hair is not as thick as Harvey's hair.  There were 2 different Oswalds.  Maybe every CIA agent has a double in the event they need an out.  Makes you wonder.  This is the spy game we are talking about.
                    Monroe County Sheriff Thompson in Key West, Florida recalled in the spring of 1961, that Lee Harvey Oswald fueled up his boat in Key West shortly after the Bay of Pigs invasion.  Oswald did not have the funds to pay for the fuel & called someone in Dallas, Texas.  Within a couple of hours, a man showed up named Ruben and paid for the boat fuel.  The attendant on duty at the Sands Marine Fueling Station at Stock Island, Key West Florida, was William Huffman.  Huffman acknowledged that Oswald did not have the money to fuel the boat.  He also had 5 Cuban passengers with him.  Huffman stated that even though the man named Ruben paid for the fuel, Oswald still signed the fuel receipt.  Huffman stated to the FBI, "I told him I wanted his autograph in case he should become famous at some later date."  William Huffman was a former FBI informant, whose identification code was "MM892-C."  Huffman reported Oswald's visit to Homer A. Newman, a supervisor of the FBI's Miami Office on November 25th, 1963.  This was also ignored by the FBI because of Oswald being on record as living in the Soviet Union from 1960-62.  Keep this in mind, 1961 was the first known association of Lee Oswald & Jack Ruby(Not Harvey, because he was in the Soviet Union.)                     In 1962, a 20 year veteran of the Air Force, Leander D'Avy, was working in New Orleans at the Court of Two Sisters.  A man approached D'Avy asking for a "Clay Bertrand," and he was sent to speak with Gene Davis, the night manager.  Davis told the woman at the bar, that the young man had just came from the Soviet Union.  D'Avy recognized the man as Lee Harvey Oswald following Kennedy's Assassination.  Two months later a car drove up in front of the Court & D'Avy told the man he could not park there.  One of the people riding in the car, referred to the driver as "Jack."  Following the assassination, D'avy recognized this man as Jack Ruby.  Something else to keep in mind, Harvey Oswald, his Russian wife Marina and their baby June, lived in the Dallas area the entire year of 1962.  It was Lee Oswald whom D'avy saw with Jack Ruby in New Orleans.